QUIZ: How well do you know
THE PRINCIPAL'S UNDERWEAR IS MISSING?
1. Where's Becca and Selfie's first encounter?
In Fashion Club
At Biology Camp
At a volleyball game
2. What does Selfie ask Becca to do?
Steal a bra
Pick up her shopping bag
Spy on Roxxi
3. The Piranhas are:
A gang
Spelling champions
A heavy metal band
4. Rob Robson is:
The yearbook editor
The school news anchor
#1 on the Hottie List
5. Where can you find this guy?
The clothing drive
Battle of the Bands
The Teen Lounge

 
6. Which prank is NOT mentioned in the book?
Sneaking a horse into gym
Covering doorknobs in mayonnaise
Having a hundred pizzas delivered to the principal
Selling the school on Craigslist
7. Match the container in Column A to its contents in Column B.
| | |
| --- | --- |
| Column A | Column B |
| a. Selfie's purse | 1. Nerf football, fake vomit, 'everything' bagel |
| b. Rosa's backpack | 2. Swiss chocolate bar, concert tix, foreign money |
| c. Mr. Maslon's box | 3. Catcher's mitt, paintball shirt, drumsticks |
8. What did Selfie wear?
A Viking hat with horns
Tightey-whiteys
J'Adore Dior tee
The principal's bra
9. Which picture of the bra is not in the book?
a.

b.

 

c.

d.

 
10. Match the book or magazine to the person it belongs to.
| | |
| --- | --- |
| a. Mr. Maslon | 1. More Dog Stories |
| b. Selfie | 2. Gateway to Algebra |
| c. Prezbo | 3. World of Antiques |
| d. Becca | 4. Flirt Magazine |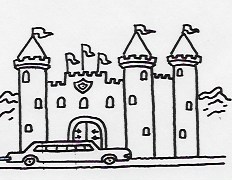 11. This building is…
A Swiss boarding school
Medieval Castle, Felix's favorite restaurant
Where Ajax goes for detention
12. In the end, Becca and Selfie end up as
Co-prom queens
Friends
Cellmates

 
ANSWERS:
1. c – 2. b – 3. a – 4. c – 5. c. – 6. b. 7. a-2 b-3 c-1
8. a – 9. c – 10. a-3, b-4, c-2, d-1 – 11. a – 12. b