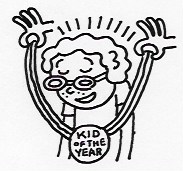 The Children's Book Committee, a division of Bank Street College, has selected its Best Children's Books of the Year for 2012 – one of the most comprehensive annotated book lists for children, aged infant-16. The Committee reviews over 6,000 titles each year for accuracy and literary quality and considers their emotional impact on children. It chooses the best 600 books, both fiction and nonfiction, which it lists with annotations, according to age and category.
T

he Loser List was also chosen for a Parents' Choice Award Recommended Seal!
The Parents' Choice Recommended Seal indicates that our committees found the product distinguished enough to give it a notch above our "Approval" rating. In other words, this commendation implies our approval and, even beyond that, our thorough recommendation for reasons of production, appeal and fulfillment of its clear intent.
North Carolina Young Adult Book Award for 2012-2013 (The Loser List)